PARKING STRUCTURES
The range of our parking structure projects include Airport, Educational Institutions, Government Structures, Healthcare, Retail, Transit and Underground.
Cast-In-Place Post-Tension concrete can be placed swiftly and reduce disruptions to your airport facility. Post-Tensioned parking garages also reduce deflections from traffic and can meet other FAA design restrictions. If you have flown through a major Midwestern airport, then you have probably experienced the benefits of AMSYSCO post-tensioning.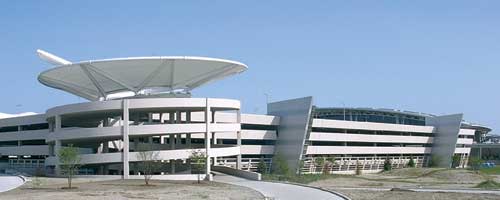 INDIANAPOLIS INTERNATIONAL AIRPORT
Project Name: Indianapolis Airport Parking Structure
Location: Indianapolis, IN
Contractor: F.A. Wilhelm Construction
PT Quantity: 4.6 million feet
Facts: The 2.7 million square foot, 5-level garage has 7,100 parking spaces and a curved speed ramp. The PT project had considerable savings in concrete and labor.
---

MINNEAPOLIS ST. PAUL INTERNATIONAL AIRPORT
Project Name: Minneapolis St. Paul International Airport Garage
Location: Minneapolis, MN
Contractor: M.A. Mortenson
PT Quantity: 4.7 million feet
Facts: This project had liquidated damages of $25,000 per day of delay. AMSYSCO was selected for product quality and dependability. The project was completed in 17 months without a day of delay for the PT shipments. The project consisted of 8 parking sections with 2 helical speed ramps – all of which were post-tensioned.
---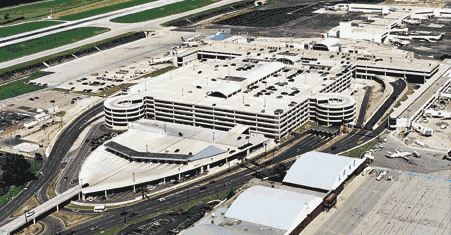 PORT COLUMBUS INTERNATIONAL AIRPORT
Project Name: Port Columbus International Airport
Location: Columbus, OH
Contractor: PJ Dick Construction
PT Quantity: 2.7 million feet
Facts: The project compromised of a typical PT beam and slab system. Temperature tendons were utilized in the slab for shrinkage and temperature effects. A section of the garage was designed as a roadway with heavy live loads. AMSYSCO was selected for field service and product quality. The project had liquidated damages of $15,000 per day of delay.

The safety of staff and students within your parking structure are of upmost importance. The wide beam-spacing and long-spans of Post-Tensioned concrete can improve the visibility and lighting when compared to other structural systems.

TRUMAN COLLEGE PARKING GARAGE
Project Name: Truman College Parking Garage
Location: Chicago, IL
Contractor: Walsh Construction
PT Quantity: 768,000 feet
Facts: The project compromised of a "one-way" PT beam and slab system. The encapsulated post-tensioning anchors were coordinate with the architectural precast embeds and other trades. AMSYSCO was selected for expedited lead times on shop drawings and delivered materials.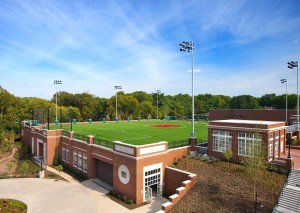 (photograph used with permission of The Parent Co.)
MBA PARKING GARAGE & SOCCER FIELD
Project Name: Montgomery Bell Academy Parking Garage & Soccer Field
Location: Nashville, TN
Contractor: The Parent Company
PT Quantity: 300,000 feet
Facts: Rather than have surface-level structures, the 146-year college took a progressive approach to construction by building the Soccer Field on top of the 300-space post-tensioned parking structure.  AMSYSCO supplied encapsulated post-tensioning tendons in the parking level and 80,000 square-foot TSSAA-regulation Soccer Field level.

Long-term durability and reduced maintenance costs are some benefits of post-tensioned parking structures. Post-Tensioned garage can be designed to meet fire, seismic or building code requirements. Additionally, cast-in-place concrete project can create local construction jobs.

Convenient and safe access of your patients and their families to the healthcare facility is the key to any Post-Tensioned garage. The improved crack-control of Post-Tension concrete counteracts the corrosive elements of water and de-icing chemicals.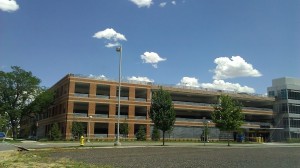 CHILDREN'S HOSPITAL PARKING GARAGE
Project Name: Childrens' Hospital Parking Garage
Location: Aurora, CO
Contractor: The Weitz Company
PT Quantity: 550,000 feet
Facts: The multi-level parking garage services the non-profit hospital located on Anschutz Medical Campus.  Over 1,400 cars can be contained with the parking garage.   Galvanized Barrier Cable is used for vehicular and pedestrian restraint.

Post-Tensioned concrete parking structures have lower life-cycle costs compared to alternative system due to the lack of maintenance on joint repair. Revenues from your retail customers can remain as there is no loss of parking space.

SOUTHGATE MARKET
Project Name: Southgate Market
Location: Chicago, IL
Contractor: Pepper Construction
PT Quantity: 800,000 feet
Facts: The 3-story, 310,000 square-foot retail structure has a mixture of parking and stores on each level. It also includes a curved speed ramp from the parking lot to the second level garage. The beam and slab system was not typical since the beams were sloped due to design aspects.

NAVY PIER – GARAGE
Project Name: Navy Pier Garage
Location: Chicago, IL
Contractor: McHugh Construction
PT Quantity: 450,000 feet
Facts: The stressing operations for this garage proved to be a challenge. The garage was sandwiched between two existing structures. Furthermore, no stressing was allowed on the third side based on an agreement with nearby condominium owners and the City. After being awarded the project, AMSYSCO developed means and methods to solve the lack of stressing access as well as other complex constructability issues.

Public transit customer can store their vehicles in an aesthetical pleasing environment.  Over the long-run, post-tensioning can reduce maintenance costs which preserves parking revenues in park-n-ride facilities.

Post-Tensioning can reduce the structural depth of the parking structure and directly decrease excavation, de-watering and soil-retention construction costs. Access for stressing Post-Tensioning tendons is solved through pour-strips or stressing pockets.

PARKVIEW WEST – UNDERGROUND GARAGE
Project Name: Parkview West Garage
Location: Chicago, IL
Contractor: Goebel Forming
PT Quantity: 400,000 feet in Garage/Lid (600,000 feet in Tower)
Facts: The underground garage was built using a "top-down" construction. Due to limitations in stressing, the beam tendons were stressed through the top of the beam instead of at the face of the beam.

MUSEUM OF SCIENCE AND INDUSTRY – UNDERGROUND GARAGE
Project Name: Museum of Science & Industry Garage
Location: Chicago, IL
Contractor: Schwendener Construction
PT Quantity: 2.8 million feet (0.6" diameter PT)
Facts: The underground garage addition was built to hold 1500 cars as well as a permanent exhibition for some museum displays. The underground garage serves as the climate-controlled main entrance to the Museum, which helps visitors stay warm during Chicago's winter weather.