Three years ago, AMSYSCO created a short case study on Slideshare about Small Business and Social Media.  At that time, Facebook, LinkedIn and Twitter had not IPO'd as public-traded company, Google+ didn't exist in the public domain and Slideshare wasn't owned by LinkedIn.  Since that time, AMSYSCO has pushed further into Social Media and shifted away from some social media channels.  Our goal was fairly obvious – promote and educate the general public on the benefits of Post-Tensioned Concrete and in the process garner some publicity for our company.
Even though our US-based building-material manufacturing company operates in the relatively niche industry of post-tensioning, AMSYSCO has created a small (and global) following within each social media channel.  Our target audience is limited to large commercial construction contractors (ENR Top 500 contractors) as well as Structural Engineers and Ironworkers associated with post-tensioned concrete projects.  Here is a summary of our "followers" on each channel:
Each social media channel has a distinct purpose that relies on the strength of the content as well as the distribution network.  As a small corporation, we've been pleasantly surprised by the number of views on Slideshare and YouTube.  Both channels are visually appealing and rely less on reading text.  We've leveraged our followers on Twitter to issue corporate press releases and point them to some interesting articles about post-tensioning.  To date, our content on Facebook and Google+ has mimicked Twitter, but with the added bonus of pictures.  That said, we had low expectations on Facebook since the social network tends to cater to an individual's personal life (rather than professional life).  We've been somewhat disappointed in the number of LinkedIn Followers since it is a professional community.  However, that means AMSYSCO needs to bolster the content on LinkedIn (or hire more employees).  Pinterest has proven to be an interesting channel for highlighting our love of Construction (yes, even the ones without post-tensioning).
Naturally, most of our followers are U.S. and Canadian-based, but we were pleased to find out we gained followers for other countries like India and Australia.  Whereas AMSYSCO doesn't directly operate in these countries, the web-analytics showed us that there may be a potential market for unbonded post-tensioning outside the United States (most of the world uses "bonded" rather than "unbonded" post-tensioning due to the influence of post-WWII Colonial Europe).
In the 3 years since we issued the case study, we noticed that AEC professionals have slowly (but surely) started joining social networks.  The trend started with Architects on Twitters and has grown to include Engineers and Construction professionals.  Since AEC was a late-adopter to social media, we expect the number of social media participants within the AEC community to continue to grow.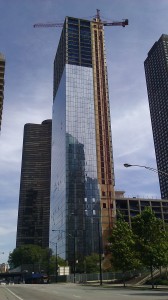 -Neel Khosa, Vice President
____________________________________________
Copyright © 2014 by AMSYSCO, Inc. All rights reserved.