A commercial concrete contractor and an unbonded post-tensioning installer called me looking for ideas to speed up the construction schedule of a multi-story apartment building.  The schedule had lost (too many) days due to the unseasonable winter weather in the Midwest U.S.  As with most construction schedules, the end date is not easy to push to a future date.  Owners must open their buildings on time in order to generate revenue and recoup on their investment.  Accordingly, I had proposed that it may possible to expedite their construction schedule by field-seating the intermediate anchor at the construction joint.
A few caveats should be noted before the procedure is discussed:
The unbonded post-tensioned concrete building should be multi-story (the more the floors, the bigger the benefit to cycle formwork).
The floors should have at least 2 pours (and hence the need for an intermediate anchor).
Ideally, the floors should have the same building dimensions…but this is not a deal-breaker.
The length of the tendon within Pours #1 or #2 should not be excessive as to require double-end stressing in order to provide the required PT force.  In a effect, both pours will have single-end stressing for the continuous tendons.
This procedure should be (ideally) implemented prior to approval phase of the post-tensioning installation drawings. That said, the procedure can be implemented after the approval of the PT drawings.
 This procedure should be approved by all parties before being put to use.  The resources and capacity of the ironworker and forming contractors must be matched to meet the demands of expediting the construction schedule.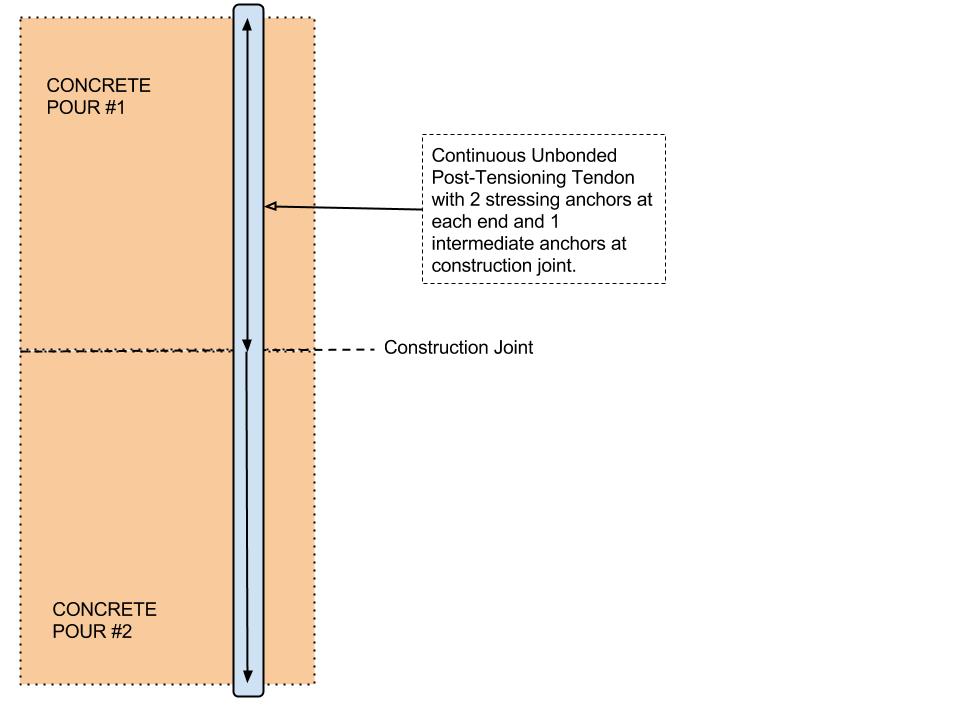 The biggest benefit to field-seating the intermediate anchor is that it creates a fixed anchor at the construction joint.  Since no stressing will be required at the construction joint, this procedure provides the following benefits:
The concrete contractor can pour concrete for Pour#1 on Day 1 and Pour#2 on Day 2 (or the same day).
The installer does not have to wait for the approval of elongation in Pour #1 before stressing tendons in Pour #2.
On average, the construction project will gain 2-3 days per floor since the formwork and reshoring for each pour can be cycled quicker.  AMSYSCO and several of it's clients have used this procedure to expedite the construction schedule on several completed projects.
– Neel Khosa, Vice President
____________________________________________
Copyright © 2014 by AMSYSCO, Inc. All rights reserved.