It's been a busy summer but we've managed to enter 3 pictures into Engineering News Records's 2013 Construction Photo Contest. If you have a moment in your busy day, then please vote and give us a 4-star rating on each picture.
PHOTO#1 : "I've Got the World on a String"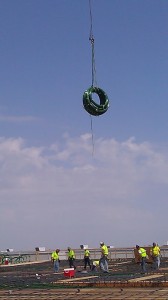 Description: Titled after Frank Sinatra's hit song, this picture captures a bundle of coiled-up post-tensioning tendons hoisted by an overhead (but hidden) crane. Meanwhile ironworkers were busy installing rebar and post-tensioning reinforcement in the Abbott Lab nutrition manufacturing warehouse. The project schedule schedule was expedited but safety was of utmost importance. – See more and vote at: http://review.wizehive.com/voting/view/enrphoto2013/19247/1662344/0#sthash.LszpB5Y6.dpuf
PHOTO#2 : "516 N. LSD"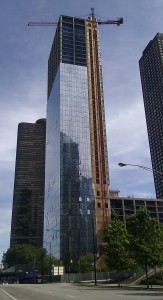 Description: 500 North Lake Shore Drive is a luxury residential high-rise tower situated next to Navy Pier, Chicago's biggest tourist attraction.
The 45-story post-tensioned tower includes a 10-story post-tensioned parking garage. 500NLSD was one of the first large skyscrapers constructed in Chicago after the Great Recession. It represents the Construction Industry's ability to rebound from setbacks. 500 NLSD was recently opened to tenants who will live in the heart of Chicago. – See more and vote at: http://review.wizehive.com/voting/view/enrphoto2013/19247/1662257/0#sthash.iXYnoLXh.dpuf
PHOTO#3 : "111 Wacker – post-tensioned transfer floor"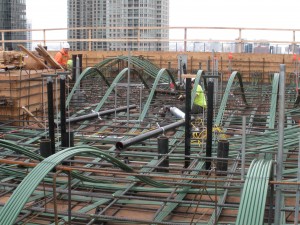 Description: I took this photo on the 30th floor of 111 Wacker Drive in Chicago, IL in June 2013.
The building was a reinforced concrete high-rise hotel that got halted on the 29th floor in 2007 due to the economic recession. Construction restarted in 2013, but the building was converted by the new owners from a 90-story hotel to a 60-story residential building. This change required a redesign that moved the columns inward for the upper 30 levels. The redesign necessitated incorporating a 60″ post-tensioned transfer level on L30 which was poured in two lifts. The upper floors were also value-engineered from reinforced concrete to post-tensioned slabs in order to reduce the slab thickness and dead load on the transfer level.
The picture shows an array of green post-tensioning tendons. The parabolic PT tendons have a low point of 3″ off of the bottom of the slab and curve up to a high point of 58″. The difference between the two number is called "the drape." Typically, post-tensioned high-rise buildings have 7″ to 8″ slabs with a drape of no more than 6″. In comparison, 111 Wacker's transfer floor has a drape of 55″ in certain sections of the slab. The larger the drape, the larger uplift is provided to balance the loads from above.
In total, 150,000 feet of 0.5″ diameter unbonded PT tendons was installed on the transfer floor. Construction on 111 Wacker topped off on the 60th floor in November 2013. – See more and vote at: http://review.wizehive.com/voting/view/enrphoto2013/19247/1662205/0#sthash.zcjDaMME.dpuf
____________________________________________
Copyright © 2013 by AMSYSCO, Inc. All rights reserved.