AMSYSCO, Inc. is proud to enter it's 20th year as a PTI-Certified Plant for Unbonded Post-Tensioning.  AMSYSCO, Inc. has operated in one of the longest standing PTI-Certified Plants in the world – if not the longest, in good standing.
Our manufacturing plant strives to have a rating well above the industry average.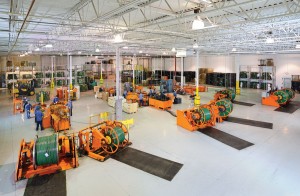 The PTI inspection is unannounced twice a year by an independent certifying agency.  The following is an excerpt from the Post-Tensioning Institute's website regarding the program:
Launched in 1989, the first program, Unbonded Single Strand Tendon Fabrication Facilities, is for facilities that fabricate unbonded single strand tendons.  Since its inception, participation in the program has grown steadily.  63 plants are certified, which represents approximately 95% of the industry's production.

An abridged outline for the Manual for Certification of Plants Producing Unbonded Single Strand Tendons(5th Edition, May 2007, Post-Tensioning Institute) is located below for the grading criteria.
2.0 Post-Tensioning Institute Certification Program Criteria
2.1 General
2.2 Prestressing Steel
2.3 Anchorages and Couplers
2.4 Sheathing
2.5 Post-Tension Coating
2.6 Fabricating Process
2.7 Storage and Shipping
2.8 Record Keeping
2.9 Stressing Equipment
2.10 Quality Control Program
____________________________________________
– Rattan Khosa, President, AMSYSCO
Related Posts:  Certified Plant (AMSYSCO)
____________________________________________
Copyright © 2010 by AMSYSCO, Inc. All rights reserved.