As 2008 and 2009 are behind us and 2010 is still young, I thought to share my insights with the reader about the Commercial Construction industry.
COMMERCIAL CONSTRUCTION (2008-2009)
2009 was a year that most in the construction industry would like to forget.  Everyone is aware of the "Great Recession" which started in 2008 and deepened in 2009.  For Commercial Construction, with or without post-tensioned concrete, there has been a Depression with no turnaround in sight.  The intensity of the downturn is best illustrated by a 4th Quarter (2009) drop of 88% in the construction starts for investment-type office buildings in 63 core markets (data provided by analytics firm CoStar Group, Inc., Wall Street Journal, January 20, 2010).
COMMERCIAL CONSTRUCTION (2010)
With the backdrop of tight credit markets, high levels of unemployment/underemployment and excessive inventory of office/residential space, the Commercial Construction industry in 2010 could be worse than in 2009.  Unfortunately, any recovery may be deferred until 2012.  In the meantime, the combination of a steep drop in business volume, an increased commodity prices and the downward pressure on margins has created a challenging environment for all construction-related companies.
AMSYSCO, Inc.
As a past, current or future customer of supplier of AMSYSCO, Inc., you may wonder how our company has done.  In AMSYSCO's 29 years in business, 2008 and 2009 were the second and third most profitable years respectively.
There are many factors which contributed to the positive performance.  One key factor is that, in October 2006, our management predicted the potential for an industry downturn starting in 2007.  (In October 2007, a major slowdown in the U.S. market and commercial construction started).  In mid-2008, we also projected that the Dow Jones Industrial would go below 7000 (it hit 6500 in March 2009).  Accordingly, we took some necessary steps to combat the Great Recession.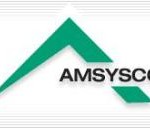 At the same time, we stayed the course by relocating our headquarter and purchasing a 55,000 sq.ft. industrial building.  This move enabled AMSYSCO, Inc. to serve our customers better, increase our plant production capacity and provide an excellent environment for our employees.
AMSYSCO, Inc. will continue to strive to provide the best value to our construction clients in partnership with our suppliers and employees.  Together we have already set a solid foundation for 2010.
– Rattan L. Khosa, President
____________________________________________
Copyright © 2010 by AMSYSCO, Inc. All rights reserved.